Precautions & Uses
– Remember to cut the wick 0.5 or 1 cm from the wax area to maintain a unique ignition.
– Do not leave a candle unattended.
– The candle must not burn for more than 4 hours.
– Before going to bed or leaving a room, you must extinguish the scented candle.
– Flammable things should be kept away from lighted candles.
- The candle must be in a stable area when lit– Keep lit candles away from furniture, curtains, bedding and rugs.
– Keeping your candles lit away from electrical points in the house will prevent combustion.
- Burning a candle is not recommended when there is a child under 1 year old.
– Since candles consume oxygen and produce humidity, you can freshen the air by briefly ventilating the room after using candles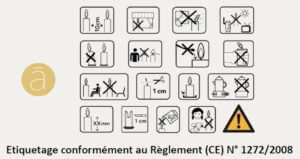 Details
Scented matches essential accessories for candles
We have for you scented matches with Bois de Oud. It is the perfect accessory for your scented candles! Maison Shiiba offers you quality scissors and snuffer, worthy of your refined candles. Indeed, to light the magnificent candles in an elegant way, our 20cm scented matches are the perfect accompaniment.
Quality Scented Matches
Always faithful to our values, we create singular and high quality tools which last in time. Consequently, for your homemade scented candle, we have thought of the neat instruments and the perception of our workshop. In this way, the scissors and snuffer developed by our experts will assist you during your scent leaks.
Golden and refined!
As with the jars of our various candles, we have chosen the golden color for all of our accessories. Indeed, gold symbolizes the sacred, nobility and grace. It is therefore natural that our proposed accessories espouse the spirit of refinement and clearly display a touch of elegance and delicacy. So, like real jewelry, Maison Shiiba's scissors and snuffer will ideally complement your scented candleTo benefit from our candle supplements, just order them online!
Complete your gift
We suggest you accompany your scented and personalized candle with the most elegant scissors and a very elegant snuffer! To give as a gift, opt for a beautiful Furoshiki fabric container for your gift. All you have to do is choose the right accessories for your candles!
Scented matches for all your candles
We are committed to bringing you top quality, handcrafted natural candles.As we try to offer you a special olfactory adventure, we provide you with many fragrances and scents.From the romantic climate of the Rose fragrance, to the ideal freshness of the Lavender, through the pleasure of the Fleur de Coton fragrance and the individual atmosphere of the Musk fragrance, you will move from one place to another.