Precautions & Uses
– Remember to cut the wick 0.5 or 1 cm from the wax area to maintain a unique ignition.
– Do not leave a candle unattended.– The candle must not be burned for more than 4 hours.
– Before going to bed or leaving a room, you must extinguish the scented candle.
– Flammable things should be kept away from lighted candles.
– A stable area is where you should place your scented candle when it is lit.
– Keep lit candles away from furniture, curtains, bedding and rugs.
– Keeping your candles lit away from electrical points in the house will prevent combustion.
– It is not recommended to burn a candle when there is a child under 1 year old.
– Since candles consume oxygen and produce humidity, you can freshen the air by briefly ventilating the room after using candles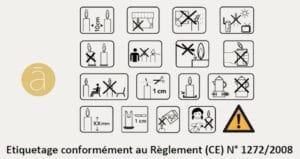 Details
Scented matches essential accessories for candles
We have for you scented matches with Bois de Oud. It is the perfect accessory for your scented candles!Maison Shiiba vous propose des ciseaux et un éteignoir de qualité, dignes de vos bougies raffinées.En effet, afin d'allumer de façon élégante les magnifiques bougies, nos allumettes parfumées de 20cm sont les accompagnements parfait.
Quality Scented Matches
Les accessoires de la Maison Shiiba sont faits pour durer ! Toujours fidèles à nos valeurs, nous créons des outils singuliers et de grande qualité.En conséquence, pour votre bougie parfumée homemade scented candle, nous avons pensé aux instruments soignés et à la perception de notre atelier.De cette façon, les ciseaux et l'éteignoir élaborés par nos experts vont vous assister durant vos fuites odorantes.
Golden and refined!
As with the jars of our various candles, we have chosen the golden color for all of our accessories. En effet, l'or symbolise le sacré, la noblesse et la grâce. C'est, donc, tout naturellement que nos accessoires proposés épousent l'esprit du raffinement et affichent clairement une touche d'élégance et de délicatesse.Donc, comme de vrais bijoux, les ciseaux et l'éteignoir de Maison Shiiba compléteront idéalement votre scented candle.Pour bénéficier de nos compléments de bougie, il suffit de les commander en ligne !
Complete your gift
Nous vous suggérons d'ajouter des accessoires raffinés et précieux à votre bougie qui est produite de manière personnalisée pour être offerte en cadeau.Nous vous proposons d'accompagner votre bougie parfumée et candle with the most elegant scissors et un éteignoir des plus élégants !Pour demeurer dans un sentiment de finesse, vous pouvez opter pour un magnifique contenant en tissu façon Furoshiki pour votre cadeau.Il ne vous reste donc plus qu'à choisir les accessoires adaptés avec vos bougies!
Scented matches for all your candles
Nous nous engageons à vous apporter des bougies naturelles de qualité supérieure fabriquées à la main.Puisque nous essayons de vous offrir une aventure olfactive spéciale, nous mettons à votre disposition de nombreux parfums et senteurs.Du climat romantique du Rose fragrance, to the ideal freshness of the Lavender, through the pleasure of the Fleur de Coton fragrance and the individual atmosphere of the Musk fragrance, you will move from one place to another.