Precautions & Uses
– Lighted candles must be kept out of the reach of children and animals.
– Remember to cut the wick from the surface of the wax to maintain a similar burn.
– Left unattended, a candle scenting your home could leave a trail of devastation
– Do not burn for more than 3 hours at a time.
– If you are going to leave the room, be sure to blow out all the candles first
– All candles should be extinguished before going to sleep.
– Place your lighted scented candles on a stable surface.
– Your candle must be placed away from drafts to avoid any type of burn
– Keep your candles away from fire and moisture.
– Place candles well away from flammable objects and materials.
– After extinguishing the candle, you must ventilate the room.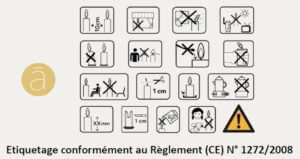 Details
Candle accessories: scissors
Since your scented candles deserve the accessories, we have chosen the best of them for you.
Maison SHIIBĀ offers you quality scissors and snuffer, worthy of your refined candles..
In fact, to make sure you enjoy the wonderful scents your candle releases, it's best to take care of its wick.
Therefore, the main role of the scissors is to cut the candle appropriately.
To extinguish your candle flame safely and without damaging the wick, our snuffer is the perfect tool.
Our accessories make using the candle a more pleasant experience. So, if you are a fan of candles of all types, you should surely choose these accessories!
High quality accessories
Our accessories are made to stay! Our goal is to create unique and high quality tools.
So, for your homemade scented candle, we have thought of neat tools and the image of our workshop.
Thus, the scissors and the snuffer made by us will accompany you during an infinite number of olfactory escapes.
Golden and refined!
As with the jars of our different candles, we have chosen the golden color for each accessory. In fact, gold is the symbol of the sacred, the aristocratic and the distinction. It is therefore natural that our proposed accessories embrace the spirit of perfection and obviously display a touch of elegance and sensitivity.
Thus, like real jewelry, the Maison SHIIBĀ scissors and snuffer will perfectly accessorize your scented candle.
To order our candle supplements, contact us as soon as possible!
To complete your gift:
Thinking of giving a personalized candle as a gift? Have you thought about supplementing it with useful and refined accessories?
We suggest that you accompany your scented candle with the most chic scissors and snuffers!
To stay in a spirit of finesse, you can choose a beautiful Furoshiki-style fabric wrapping for your gift.
So, don't hesitate to order the right accessories in addition to your candle!
Scissors for all your candles:
As well as quality accessories, we offer natural handmade candles of superior value.
Indeed, each of our candles offers you a unique atmosphere and invites you to experience a unique moment of escape.
In this sense, we vary the scents and scents to give you a unique sensory and olfactory experience.
From the romantic atmosphere of the Rose fragrance, to the absolute freshness of the Lavender fragrance, through the softness of the Fleur de Coton fragrance and without forgetting the special aura of the Musk fragrance, you will travel from one universe to another.
So, don't hesitate to discover all of our exclusive creations!
Free and fast delivery:
To receive your accessories quickly, Maison SHIIBĀ offers free delivery to all relay points with Mondial Relais. In addition to benefiting from free delivery throughout mainland France, your order will reach you as soon as possible.
So, take advantage of the know-how of our creators and discover all of our products!