Precautions & Uses
– Do not place lighted candles where they could be knocked over by children or animals.

– Do not leave lit candles unchecked.

– After 3 hours of combustion, you must extinguish the scented candle.

– Make sure the candle is completely extinguished before leaving a room or going to bed.

– Place the candle away from any flammable object such as curtains.

– Place your lighted scented candles on a fixed area.

- If your candle is not in an area without drafts, the flame can be dangerous.

– Keep your candles away from moisture and light.

– You must not burn a candle when there is a child under 1 year old.

– Make sure to ventilate the room after each use.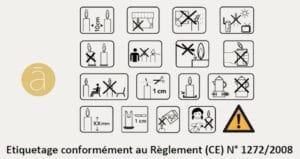 Details
Candle accessories
We have chosen the ideal accessories for your scented candles! An attractive dimension will be added to these refined and elegant instruments.
Your refined candles deserve the quality snuffers and scissors from Maison Shiiba.
Indeed, in order to fully enjoy the magnificent scents that your candle gives off, it is better to take care of its wick. Therefore, our scissors allow you to cut it properly after each use.
To extinguish the flame of your candle safely and without damaging the wick, our snuffer is the ideal tool.
Thanks to our accessories, a whole ritual takes place around the use of your candle. A must have for "candlelovers"! So, if you are a fan of candles of all kinds, you absolutely must adopt these accessories!
Quality accessories:
The accessories from Maison SHIIBĀ are made to last! We are committed to creating individual and high quality instruments to be devoted to our values.
So for your homemade scented candle, we've thought about some clean devices.
As a result, the scissors and snuffer we have made will be with you on an unlimited number of scent escapes.
Golden and refined snuffers!
As with the jars of our many candles, we have chosen gold as the main color for all our accessories. Indeed, gold evokes nobility, honesty and elegance. For this reason, it is normal that our accessories adopt the spirit of purification and distinctly present a touch of elegance and grace.
Therefore, like real jewelry, the Maison Shiiba snuffer and scissors will absolutely complement your scented candle.
To take advantage of our candle supplements, simply order as soon as possible.
To complete your gift:
When you think of giving a custom candle as a gift, have you thought of enriching it with precious and refined accessories?
We can add the most stylish scissors and snuffers to your individually crafted scented candle .
To keep a sense of finesse, you can select a beautiful fabric wrap in Furoshiki design for your gift.
So, don't hesitate to add more accessories to your candle!
Accessories for all your candles:
As quality accessories, we present to you premium natural handcrafted candles.
In addition, each of our candles brings you a special atmosphere and invites you to experience an exceptional moment of escape
In this regard, we diversify the scents and fragrances to offer you an individual sensory and olfactory moment.
From the romantic atmosphere of the Rose fragranceto the total freshness of the Lavender, through the velvety feel of the Fleur de Coton fragrance without forgetting the specific atmosphere of the Musk fragrance you will pass from one world to another.
Accordingly, we invite you to explore all of our creations.
Free delivery without delay:
We make sure to deliver your accessories briefly by relying on Mondial Relay who will be responsible for transferring our products at any point. In addition to benefiting from free distribution throughout France, your order will reach you as soon as possible.
As a result, benefit from the skill of our artisans and explore all of our products!